VARIATION
It's coming!
ADAPTIVE FEATURES
A lesson in Plant Adaptations from Ms Cooper (12m 15s); Specialized Leaves, a short 1m 39s video.
NATURAL SELECTION
The Evolution of Life on Earth in 24 hours:
What is Evolution? A 9m video from Stated Clearly:
What is Natural Selection? A 9m video from Stated Clearly:
How evolution works – a gentle 12m cartoon video (from Kurz Gesagt – in a nutshell) and here is Natural Selection made easy in a 9m 48s video (from potholer54).
A simulation of Natural Selection: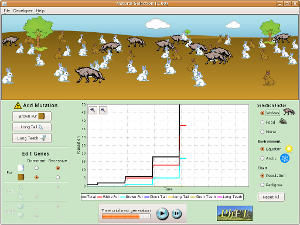 Here's Darwin's Song from Horrible Histories and in What is Evolution? Biology teacher Ceri Evans gives a master class to students on what he says is arguably the greatest idea anybody ever had: evolution (28 mins). 2 more videos – James May's things you need to know – Evolution (29m) & BBC Short Circuit Theory of Evolution (19m).
Finally, just for interest, a short (less than 5 minute) video clip from BBC iScience – Evolution of the Eye.
SELECTIVE BREEDING (ARTIFICAIL SELECTION)
This powerpoint covers Artificial Selection (selective breeding) – but we only need the first five slides:
Igcse biology edexcel 5.10 5.20 from Marcos Rodriguez
A lesson on Selective Breeding from Mr Dare: